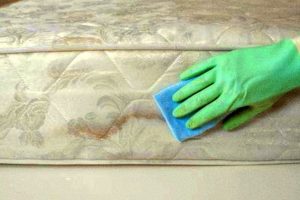 We all know that mould grows in so many places around the house. However, finding mould on your mattress can be rather unsettling. Mould may appear on a mattress if the conditions in and around the mattress are too humid. Such issues should be treated as soon as they are discovered. When found in small colonies, mould can easily be removed. However, bigger mould patches may indicate a much bigger problem.
A very important part of the process is identifying the mould before attempting anything. There are three categories of mould that homeowners can encounter: allergenic, pathogenic and toxic. Here is a little information about each type.
Allergenic mould can require professional treatment, although most times it can be treated with home disinfecting products.
Pathogenic moulds can also be treated with home disinfecting products. However, larger colonies need to be cleaned by professional domestic cleaners.
Toxic mould is extremely dangerous and always requires professionals to get rid of it and dispose of any items that have been affected.
Mould is quite harmful when found around the house but can you imagine how much worse things are if it grows on your bed, where you sleep every night and are most vulnerable. According to scientists, mould can cause various health issues. The most common ones would be stuffy nose, sore throat, coughing, sneezing, burning eyes or a skin rash. People with asthma or chronic lung diseases however, can get severe reactions and even infections in the lungs.
It is known that a mattress that has been wet for less than 48h may be able to get cleaned and disinfected. However, in some cases it is better to dispose of the whole mattress. If it is unable to dry or there are still spores on it, you should get rid of it. Mould on the mattress should be treated as soon as possible. Once the mattress is cleaned and dried completely, it should be monitored for a few days for any fungal growth or musty odour. If one of those appears, the mattress should be brought to a dumpster.
In this article we would like to show you how to rid your mattress of mould in the best way. You can do this at home, by using regular household products. Here are the steps you should take:
Wear protection
Eye protection, a mask and rubber gloves are a must wear when treating mould. Those will prevent any allergic reactions. They will also protect you from the possible toxic fumes mould causes when reacting to certain chemicals.Wear clothes that can be tossed straight in the washer.
Improve air quality
Open your windows and let air in. You can also get an air purifier to help you reduce the toxic air.
Remove all the bedding
Remove all the bedding, including the mattress protector, and wash them with the highest temperature suitable for the fabric. Add disinfectant – chlorine bleach, pine oil disinfectant or any other sanitiser that works for this purpose. After you wash and dry them, check if all mould spores are removed.
Vacuum the mattress
Use a powerful handheld vacuum cleaner or a floor vacuum with an upholstery brush. Make sure you vacuum all areas of the mattress, even the ones that have no visible mould. Do the same on the other side of the mattress as well. Do not forget to empty the disposable bag of your vacuum cleaner outside. That will prevent spores spreading to other areas of your house.
Treat the mould
SInce there are no products that will be able to treat mould to the core of your mattress, you should find the ones that are most efficient on the surface. You should not wet your mattress with excessive amounts of a wet solution since that can damage it. Mix a 1:1 solution of rubbing alcohol and water, dip a clean cloth in it and start rubbing the mould spots in circular motion. When you remove all visible mould, dip a cloth in clean water and "rinse" the treated area.
Use fabric sanitising spray
Spray some sanitisation product on your mattress. It will prevent mould from growing back on.
Dry well
Put the mattress outside, into direct sunlight or use a fan to help the air circulation. Your mattress should be completely dry before you use it again.
Here are a few things that will help you keep your mattress mould-free for longer:
Use a dehumidifier or AC at home. Those will reduce the humidity in the air.
Change bedding frequently
Do not allow spills to soak in, clean them immediately
Check mattress platform for mould that might transfer to the mattress
If you need to store the mattress, make sure it is in a climate-controlled space that does not have high levels of humidity.