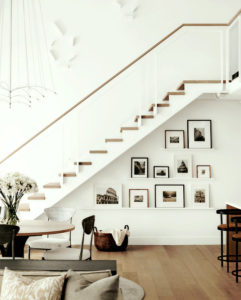 A fresh, white wall will open up your space and make it look and feel bigger, brighter and cleaner. The biggest con of white walls however, would be how easily they become dirty. Fingertips, spills and scuff marks from moving furniture are just some of the things that will ruin your perfect white wall in no time.
It is hard to keep your house looking neat when white walls are there to show every little mark that was ever left on them. No matter how clean the rest of your place is, a stain on your beautiful white wall can ruin the whole look.
Luckily, there are a number of ways in which you can clean your walls and bring their former glory back. Keep reading to find out what those are. We will show a few methods that will help you keep your walls looking spic and span.

How often should you clean your walls?
Most people clean their walls during the spring cleaning, before any major events and holiday gatherings or deep cleaning their property. It is also common to clean walls when moving in or out. However, white walls especially, can get dirty at any given time. Dust from the outside, spilled drinks, mud or fingerprints are some of the things that cause dirty walls most easily. If you have children or pets at home, dirt will show up on your walls even faster. And in the presence of deeply soiled stains on your walls, you can always turn to professional wall cleaning, which will also save you a lot of time and effort to remove the miserable stains. It is important to clean up your walls as soon as you notice the stain. Spot cleaning is a great way to remove dirt but in order to maintain your walls clean, a regular cleaning schedule might be needed.
What will you need: 
Sponge
Microfiber cloth
Paper towels
Magic Eraser
All-purpose cleaner
Baking soda
Dish soap
1. Assemble your supplies
Inspect the damage on your wall and pick the tools you will need. Choose carefully. You may need to only dust your whole wall and spot clean a stain, for example.
The size and type of the stain, as well as the type of the wall and paint,  will help you determine the cleaning supplies you will need. For most cases, you can get away with using a  soft sponge or a microfiber cloth. However, for stubborn stains and dirt you may need a Magic Eraser or a scrubber brush.
2. Always start by dusting the whole wall
When not dealing with a spot or stain you can simply grab a damp microfiber cloth, a ladder and gently dust your wall. Make sure to rinse and wring your cloth out as it gets dirty. If there are any dirty areas, use an all-purpose cleaner.
Tip: If you don't have a ladder, get a tool  with a telescopic pole handle that will help you reach all corners of your wall.
Here are some spot treatment methods:
Spot Treatment I – All-purpose cleaner
You can use any all-purpose cleaner paired with a microfiber cloth, soft sponge, a rag or even a paper towel. You can use the same cleaner that you use to get rid of kitchen grease.
Spot Treatment II – Dish soap and a soft sponge
Even though dish soap is for dishes, it makes a fantastic  cleaner for all kinds of surfaces around your house, including walls. It is best to use a mild dish soap that contains no  harsh chemicals or lots of artificial dyes and fragrances.
To treat a stain, wet the sponge and add a lot of dish soap. Rub your stain until a lot of foam forms. Let it sit for a while. Grab a wet microfiber cloth and wipe the stain clean. Repeat the process if needed.
Spot Treatment III – Baking soda paste
This is a great natural remedy for really stubborn stains. Grab some baking soda and a bowl and mix a paste using 3 parts baking soda and 1 part water. It should have a sticky texture so adjust the ratio if needed. Spread the paste on the wall with a wet sponge. Let it sit as long as possible. Once the stain is soaked, wipe the area clean with a damp microfiber cloth.
Spot Treatment IV – Magic eraser
When nothing else works, grab a Magic Eraser. Make it wet and gently wipe the stain or scuff mark until the wall is clean. Magic Erasers are quite strong so you should need little to no elbow grease.
Keep in mind that magic erasers are not suitable for shiny or glossy walls. When scrubbed harder, they may leave a dull spot.
N.B. Only use Magic Eraser for pure white walls. Otherwise, they will leave a big erased spot on your wall.
Tips on how to maintain your walls clean for longer:
Spot  clean regularly to avoid stain buildup. The longer dirt sits, the harder it will be to clean later. Make sure to spot clean as soon as the stain occurs.
Vacuum your carpets and upholstery regularly. That will reduce the amount of dust and dirt that is being kicked up in the air.
Dust your walls on a regular basis. That will reduce the amount of dirt that gets stuck to your walls and keep them looking clean for longer.