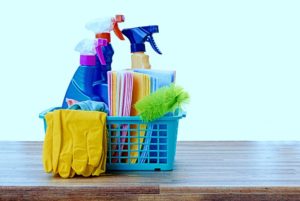 Creating an efficient cleaning routine, especially when you don't have much time can be tricky business. We would like to share some tips and tricks on how to successfully do that. This routine will help you get started and stay on track when performing daily tasks, no matter if they are big or small.
The key to creating a cleaning schedule that works for you and is easy to maintain is consistency, motivation and perseverance. If you feel a bit lost and don't know where to start or how to approach the many chores you have left unfinished at home, keep reading and find out what you can do to keep yourself together and actually get everything done.
Always start with the daily tasks
Laundry – do a load a day
Collect all the laundry in the house and do a load every day ( that works especially well if you have more clothes). If you feel like you're behind you can do more than one load a day.
Teach your kids how to do their own laundry. Show them how to fold and put their clothes away. This will save you time and teach them how to take care of themselves.
If you work away from home, set your laundry machine to start an hour or two before you wake up or before you get home. When it is done, toss the clothes in the dryer and fold them before you leave or after you get home.
If you don't have enough clothes for a load, try doing your washing once every 2-3 days.
You can use a "clean as you go" method. Split your daily tasks between your before and after work times for example.
Floors – Cleaning all your floors can be a time consuming task by itself. You can split this chore in two. Try vacuuming all your floors late in the afternoon and mopping early the next day.
Bathroom – Do a quick bathroom cleaning once a week on a particular day. Clear your counters, clean your mirrors, spray, scrub, and disinfect your toilet, sink and shower. Wash your towels and clean your bathroom floor.
Combine tasks – You can use the time while brewing your coffee or waiting for a meal to bake to unload the dryer, for example. This will help you do more and make the little time you spend cleaning more efficient.
Simplify your cleaning supplies – Use simple products and tools. You can make your own multi purpose cleaning solutions and know exactly what you're working with.
Now we will share some special rules and tricks to help you get more done.
If you are overwhelmed by the number of tasks you set for the day or you feel like a to-do list is too much for you, worry not. There is the "One thing" rule that you can use. The whole point is that you focus on doing one thing a day and soon after you get used to doing that, you will see results and get in shape. You will soon be able to tackle more chores. If you are hesitant about what one thing to do, here are some questions you can ask yourself that will help you figure it out:
What would be the one thing I can do now that will make my tomorrow self happy?
What one thing I can do that will make a difference in the house?
What one task can I finish in the 5 minutes that I have?
What is the one thing that I really need to do today?
If you are struggling with motivation, we have some tips for that as well. If you are too busy, haven't cleaned in a while and just find it hard to concentrate and get started, you might be lacking motivation. It could be difficult to just snap out of this state so let us help you with those little tricks:
Set a goal and reward yourself when you reach it.
Listen to music or a podcast while cleaning. It will keep your mind occupied.
Call someone to distract you while cleaning. Time will pass fast
Don't put things off. Face the tasks you have been postponing, it will feel good.
Invite someone over. Company will help you do more in a shorter period of time
Use supplies and products you enjoy
Be consistent. Even if you spend only 5 minutes a day cleaning, know that at some point you will be able to start doing much more. Check The 5 minutes a day cleaning method
Write down things you want to get done and do not get distracted with other tasks.
In general, as long as you are determined and you follow your simple routine, things will go well for you. Do not give up, try not to miss scheduled tasks and make it fun and easy. Your house will look much better, you will feel much more productive, and in no time you will be able to set a real cleaning routine that you will follow with pleasure. Best approach you can have is to split your tasks between the different days of the week. It will help you keep focused, not miss cleaning tasks and have a lot covered without spending too much effort. If you have troubles with folowing these steps, you can always turn to professional cleaning company.